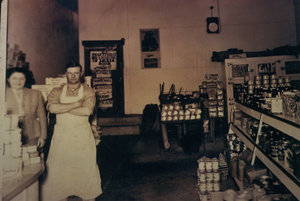 The old locker plant on Main St in Marietta.
Pictured is Tup and his mother, Mub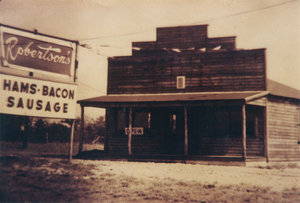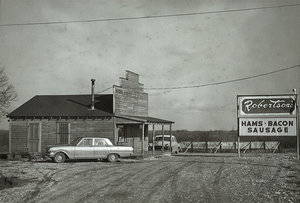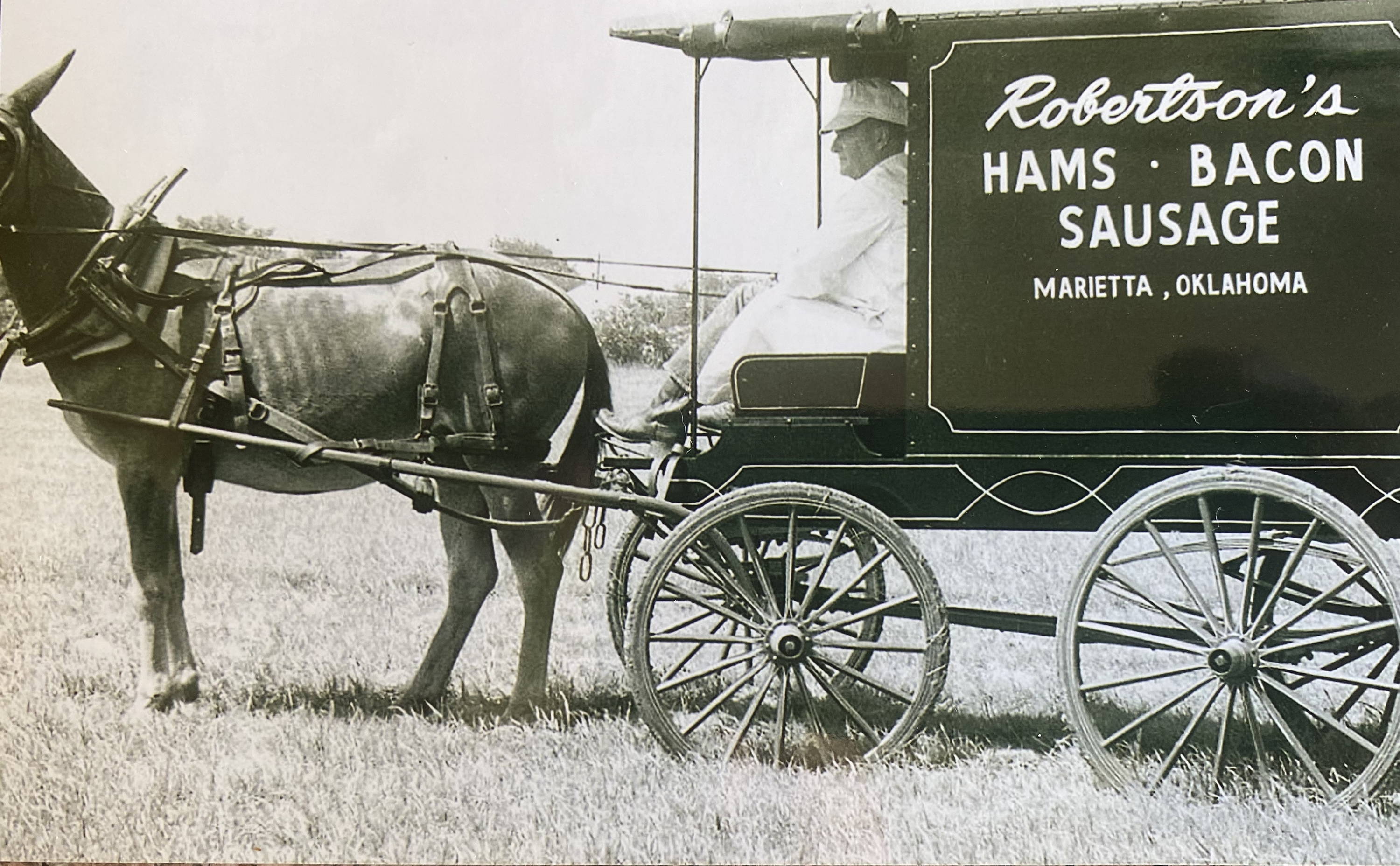 The origional "Hamstand" located on Highway 77 before Interstate 35 came through the area.
Pictured Also: Tup in his parade buggy.
Robertson's family-owned business has existed since 1946, when V.B. "Tup" Robertson opened his first store in downtown Marietta. In the early days, we could fit just 15 hams in our humble little smokehouse. But like our family, our business grew.
During the 1950s, we began advertising our smoked meats on highway billboards. When the early '60s brought the building of Interstate 35, things changed forever for our little business. What had been seasonal spikes during the summer and around Christmas became consistent year-round business. This meant opportunities for expansion.
In 1972 Tup heard about a product called beef jerky. Tup asked, "what the hell is beef jerky and how do you make it?" Experiments began and it was an instant hit.
In addition to the company store in Marietta, there are four franchise stores in Oklahoma and Texas. They look like the company store and feature the same old-fashioned ham, turkey, bacon, sausage, pork loin and real beef jerky.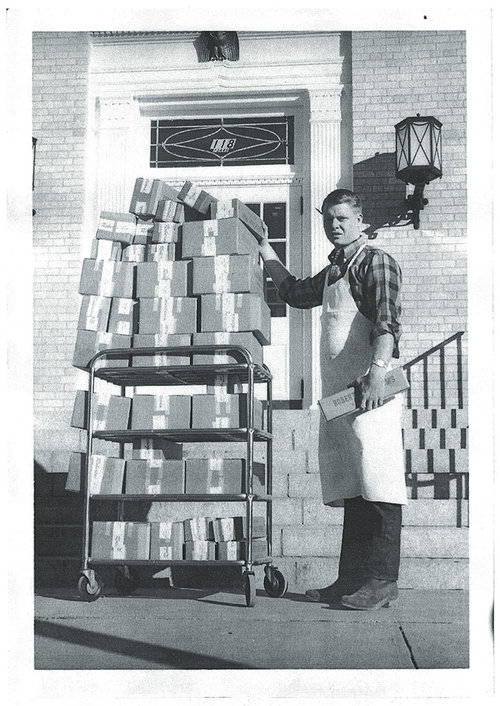 Clay Robertson with packages going to the post office for shipment.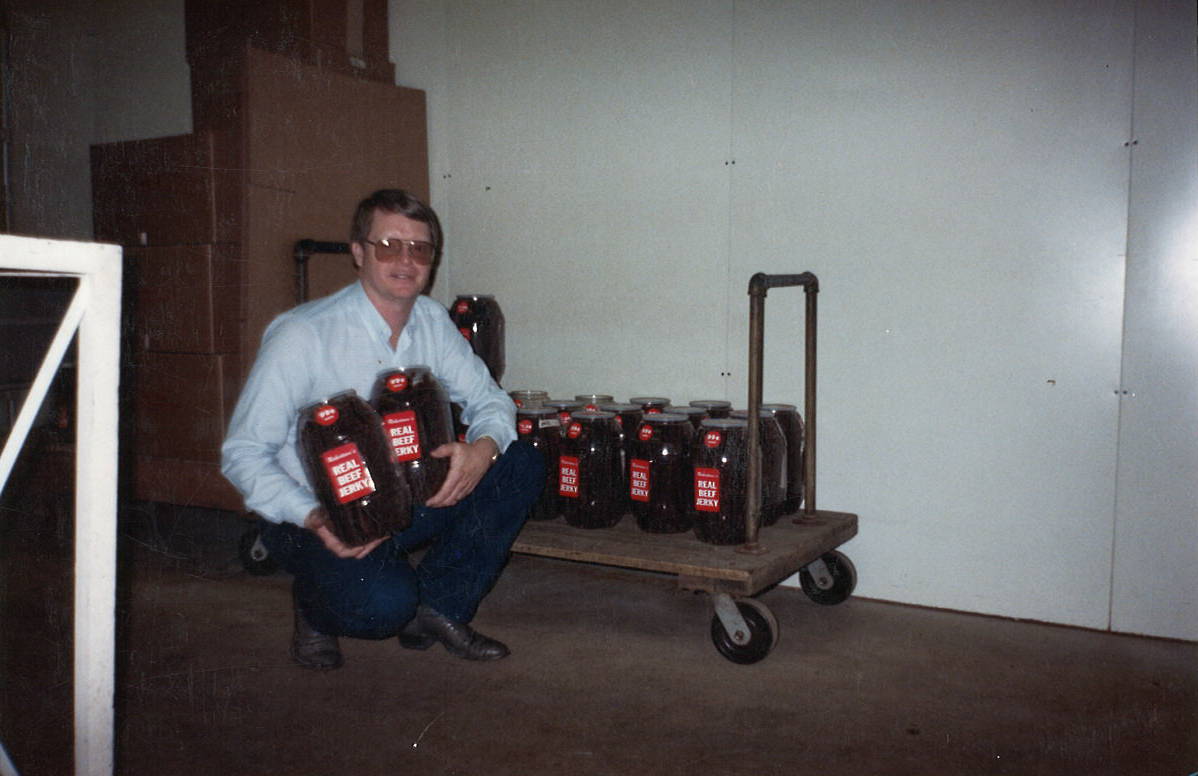 Clay with jars of Jerky ready to be shipped in the 1980's.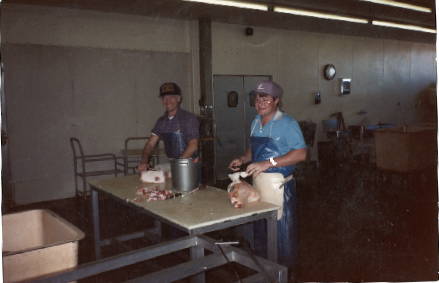 Rob Robertson (right) with Gale Harris (left) hand trimming hams in the 1980's.
Pictured below left to right- Clay Robertson, Rob Robertson, Joe Lowe and Tup Robertson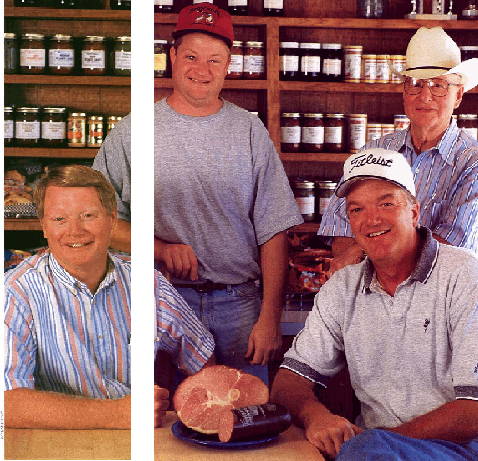 Today, Robertson's Gets beef from Texas, turkeys from Arkansas and Missouri, and pork from Iowa and Oklahoma. All of our lean, high quality meats are smoked and sold with the Robertson's Label. The plant is a 31,000 square foot facility with 16 smokehouses. Meat cuts are seasoned and cured for a week, and then sliced, smoked and packaged. During the process, hams are hand rubbed with cure, removing as much water as possible, unlike many commercially processed hams that are pumped with added water. As far as smoke goes, nothing beats hickory shavings; it simply adds a better flavor.
Many of our customers are lifelong friends, and the tradition of personal contact goes way back to the days when customers had to mail us their orders. It's a little easier now with modern technology, you can make purchases from our website and join over 22,000 mail order customers by visiting us online. However, that personal touch and family name live on today.
Tup Robertson passed away in 2012. His son, Clay, runs the company with his children; Rob, Leslie, daughter-in-law Crystal, and grand daughter April. All having a part in the company. Even some of Tup's great grandchildren are working for the family business. That makes 70+ years and four generations and counting.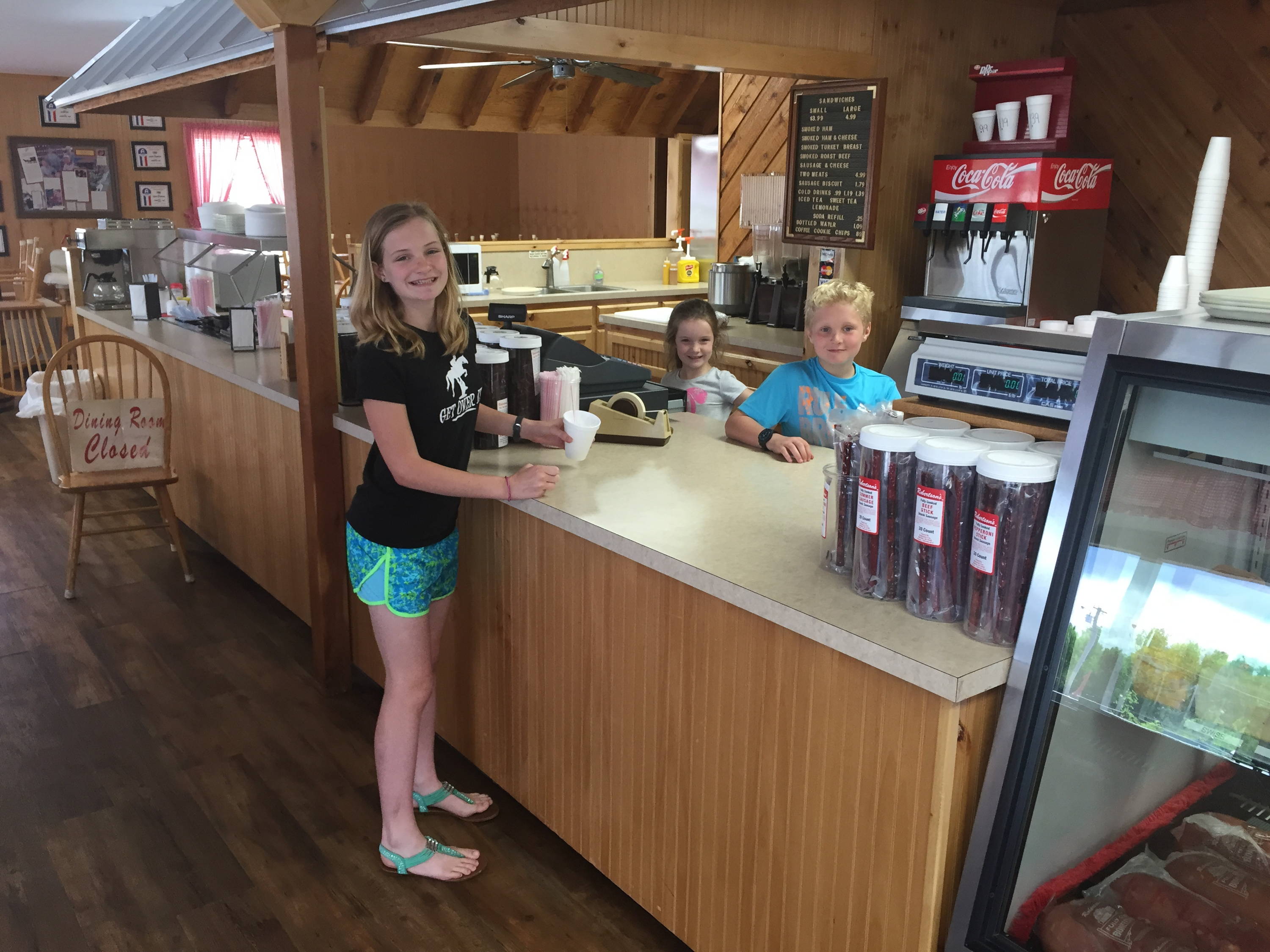 Crystal and Michael's kids, Sydney, Porter, and Hap